Posted June 13th, 2016 at 3:31 PM Filed in: General Announcements
Starting July 2016, voucher codes for your eBay shipping supplies discount will be emailed to qualified Canadian eBay Store subscribers. There are now two ways to locate your eBay shipping supplies coupon:
To find your coupon in the email:
Locate the email from eBay with the subject line "Your eBay Shipping Supplies Coupon is now available"
Find the Voucher code located in the email
To find your email in My eBay:
On any eBay page, hover over the My eBay tab
Select the link for "You have a coupon" at the bottom of the drop-down menu, as seen below: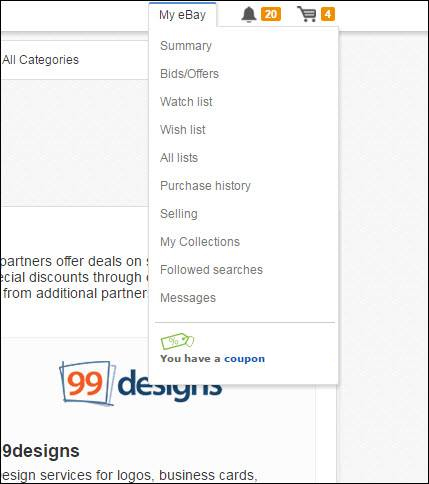 You can also find your discount coupon at the bottom of the My eBay > Summary page
Some important points about the coupon:
New coupons are typically available within two weeks of the beginning of each quarter*
Coupons must be used during the quarter in which they were issued; coupons expire on the last day of the quarter and do not carry over
The coupon can be applied to purchases made from the eBay shipping supplies Store: http://www.ebay.ca/usr/ebayshippingsupplies
The coupon is limited to one-time use; any value remaining on the coupon after the initial use is forfeited
The coupon is non-transferable
Please note that if the value of your purchase is greater than the value of the discount code applied (e.g. the total cost was $80, and your discount value was $70), the associated PayPal transaction will show the full, undiscounted total, but your discount was still applied. By clicking on the details link for that transaction and scrolling to the bottom, you'll see the breakdown showing the amount you paid out-of-pocket if the transaction total was more than the coupon value.
* This post originally stated that new coupons would be available on the first day of each quarter. This has been revised to account for possible delays.
Share This: Tagged: coupon, discount, eBay Stores, Sellers, shipping, shipping supplies, Store subscribers